60 Metre 1080P Full HD Pan and Tilt Pipe Inspection Camera System
With Transmitting Sonde, Keyboard & Distance Counter
SKU code: Bluebird60HD
Offering a new design and a host of new features, the Bluebird series from Testrix Systems surpasses new standards in the design of professional level pipe inspection camera systems. With a Full HD (1080P) pan and tilt camera and new reel design, the Bluebird 60HD is designed for high end inpection of pipelines and sewers as well as cavities and voids, where unrivalled levels of detail are required.
Based around an upgraded cable reel, manufactured from industrial grade aluminium alloy and stainless steel, the Testrix Bluebird 60HD is wound with 60 metres of camera cable, made from a reinforced fibreglass, coated in the latest waterproof PVC for the highest level of protection. The signal cable consists of a multicore, twisted pair arrangement of coaxial cable, which is also shielded to prevent electrical interference from nearby power cables. With a diameter of 9.5mm the cable is our thickest available to ensure that the attached camera is able to traverse over longer distances. A distance counter offers an on screen display of the distance covered by the camera with a resolution of 0.1 metres, and an accuracy of as little as +/-1%.
The Testrix pan and tilt camera used on this particular system is 60mm in diameter and utilises the latest Sony CMOS full HD sensor for the best quality full HD videos and images possible. Our camera is manufactured from aluminium alloy with a hardened sapphire glass lens cover for industrial grade strength, with reduced weight, and is rated at IP68, making it waterproof and allowing it to enter pipes, ducts, cavities and voids which may be submerged. This is also a manual focus camera, as we recognise that larger inspection camera systems are often called upon for inspecting larger areas, so we have designed the camera to have a focus distance from 80mm up to 1000mm, which lends itself to detailed imaging of larger pipes, with an effective distance of up to 5 metres, but with the ability to perform closer up imaging when needed. The operator is able to perform pan and tilt functions (360 degrees horizontal and 180 degrees vertical) as well as focusing and lighting adjustment from the control unit, which can be mounted on the reel. A built in 512Hz transmitting sonde allows the depth and location of the camera to be pinpointed from above the ground with our Testrix Sentinel 2 locator. The Testrix Bluebird 60HD is also supplied with two skids, including a spreadable skid (170-300mm) which help to keep the camera away from the bottom of the pipe, and aid in easier pushing.
A new design has been adopted for the control unit, encompassing a 10.1 inch LCD high brightness colour flat screen, which makes viewing easier in brighter sunlight. All functions for the Bluebird 60HD are set into the control unit, with both touch pad buttons, and dual joystick controls, which can also control the camera's digital zoom, up to 8x. The control unit weighs just 2.6kgs and is easily mounted to the custom bracket on the top of the cable reel. A keyboard shelf is also set into the reel, with a recess to fit the waterproof keyboard and keep it secure. On screen display of real time video, text notes, and distance are all available, with the ability to save both video and still images to a SD card, although our system will also support USB, up to 256GB. A latest generation rechargeable polymer lithium battery with an extended capacity of 6,000mAh can power the whole system for around 4 hours.
Key Features:
Full HD 1080P 60mm Pan and Tilt Camera

Wide angle 105 degree field of view

Manual focus & 8x digital zoom pinpoints problems in larger pipes & voids

60 metres of industrial grade waterproof cable 9.5mm in diameter

Upgraded aluminium alloy & stainless steel reel

On screen distance counter

Built in 512Hz transmitting sonde allows pinpointing location and depth from above ground

Camera head is made from aluminion alloy for reduced weight and hardened sapphire glass lens cover

IP68 waterproof rating allows for use in submerged areas

Built in ultra bright LED lights for illumination in dark pipes

Save HD videos and images to SD card or USB

Latest generation control unit with 10.1 inch colour TFT flat panel

Twin joystick control & waterproof touchpad buttons

Keyboard allows user to enter text notes on screen

Upgraded 6,000mAh rechargeable lithium polymer battery provides up to 4 hours per charge

Australia wide support and service with full range of parts in stock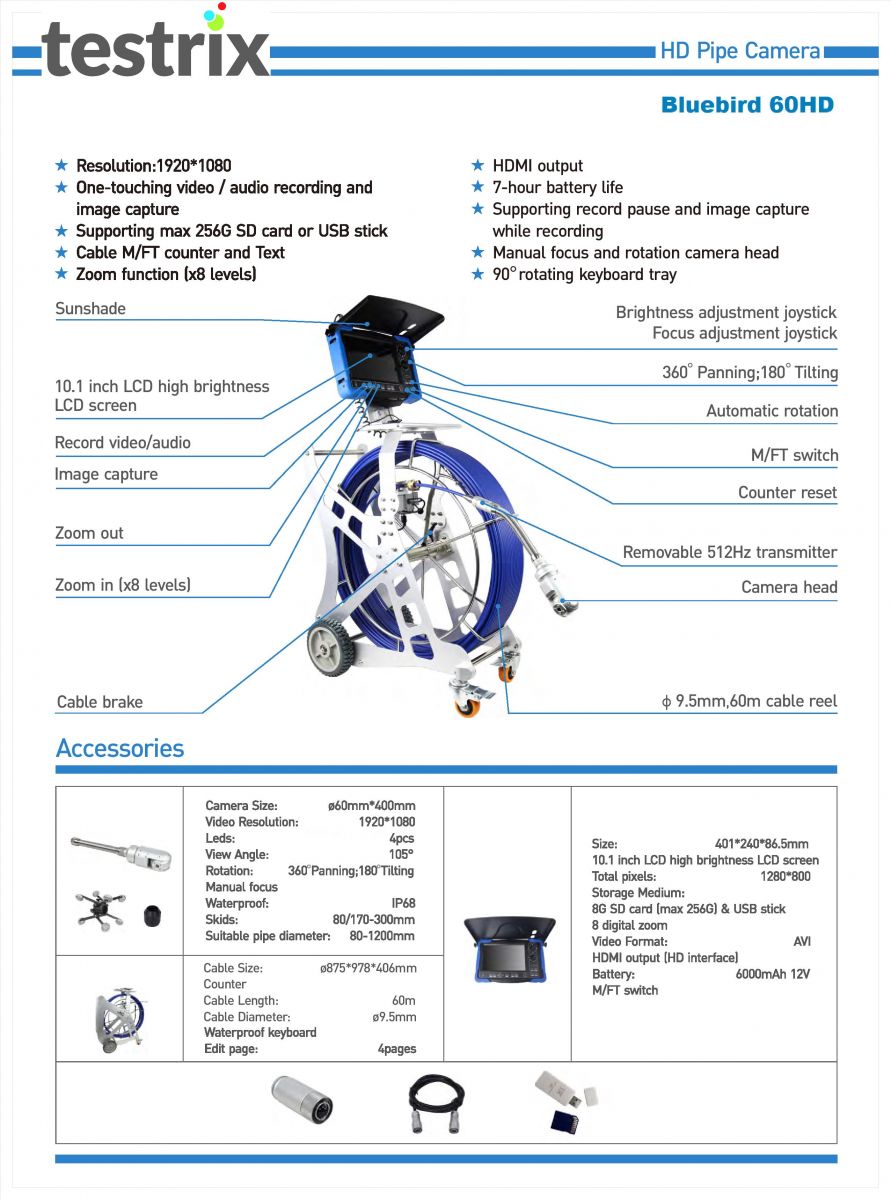 You May
Also Like
Related
products
More From
This Category