Testrix Bluebird Mini HD Drain & Sewer Pipe Inspection Camera System
With 30 Metre Pushrod, Self-Levelling Camera & Sonde
SKU code: BluebirdMiniHD
The Testrix Bluebird Mini takes a full HD drain and sewer pipe inspection camera system, and puts it all into a fully integrated solution. There is no need to carry separate components as the entire set up is self-contained in an easy to carry field case which houses the entire system, including the push rod cable in a single unit. Pipe inspection camera systems are no longer the expensive items they once were and are an ever increasing essential piece of equipment for correct inspection and diagnosis of blockages, and damages to drain and sewer pipes.
Full HD capabilities give the Testrix Bluebird Mini a competitive edge over many other inspection camera systems as the full HD videos and images are razor sharp, bringing out even smaller details, which may not be easily seen using standard definition video. This is a lightweight system, easy to transport and requires little to no set up. The operator has to simply carry it to the job site, open the case, attach the camera head and deploy it into the pipe. A touch of a button will start a full HD video recording and the whole inspection footage is displayed in real time on the 10.1 inch colour TFT display, which also displays menu items, and other information relating to the inspection, such as distance, time and date and status of key functions. In addition to full HD videos, it is also possible to save full HD still images, even with a video recording in progress for inclusion into survey reports. This system also supports 8 levels of digital zoom, allowing the user to magnify small problems and highlight problem areas with ease, and with a built in rechargeable Li-Ion battery, the Bluebird Mini will power on for approximately 4 hours on a single charge, but can also run on mains power if required. A built in QWERTY keyboard will permit the entry of text notes onto video and images for even greater levels of information relating to locations and types of problems or damages.
The push rod has been fully re-designed, and increased in diameter from 5mm up to 6.3mm, which affords better control when traversing pipes, and reduces the risk of unnecessary cable breakages, which are both inconvenient and costly due to lost revenue and ongoing repair costs. This new push rod cable was extensively tested before it was specified for use in the Bluebord Mini to ensure it could stand the rigours of day to day use, and that it would also be able to carry a full HD signal along it's 30 metre length without interference from external sources. The push rod is built into the unit and easily pulled out to feed into the pipe, which minimises coiled up cable on the job site, reducing the risk of tripping and breakage.
Redesigning the camera head has resulted in a new full HD camera head with a smaller footprint, but with an improvement in quality due to the latest Sony CMOS sensor, which offers low noise and a full 1080P HD experience. Waterproof to IP68 means that the camera can be submereged in water for inspection of waterlogged pipes, and the sapphire glass lens offers far greater scratch protection than the cheaper mineral glass used in some camera systems, which is fundmentally important when undertaking inspections in the presence of sediment, and grit. With a total length of 135mm including the spring, the camera head is large enough to be robust, but still small enough to navigate smaller runs of pipe. There is a choice of 2 camera heads, a simple 23mm diameter head or the very slightly larger 25mm diameter camera head with a built in transmitting sonde, which is also self-levelling, and included as standard on this system.
Key Features:
Full 1080P HD resolution in an integrated system

25 mm full HD self-levelling camera head

10.1 inch colour TFT display

Built in rechargeable Lithium Ion battery

Able to run on mains power or battery

Integrated QWERTY keyboard for inserting comments

Recording of full HD video and still images

Built in on screen distance counter

30 metre push rod cable, fully enclosed within system

8 Levels of digital zoom

Tactile touch keypad for controlling all key features

Thicker 6.3 mm diameter push rod cable for improved control and distance

IP68 rated camera head (waterproof and dust tight)

512 Hz integrated transmitting sonde in camera head for easy location of position and depth

Completely integrated in one field case for ease of transport and fast deployment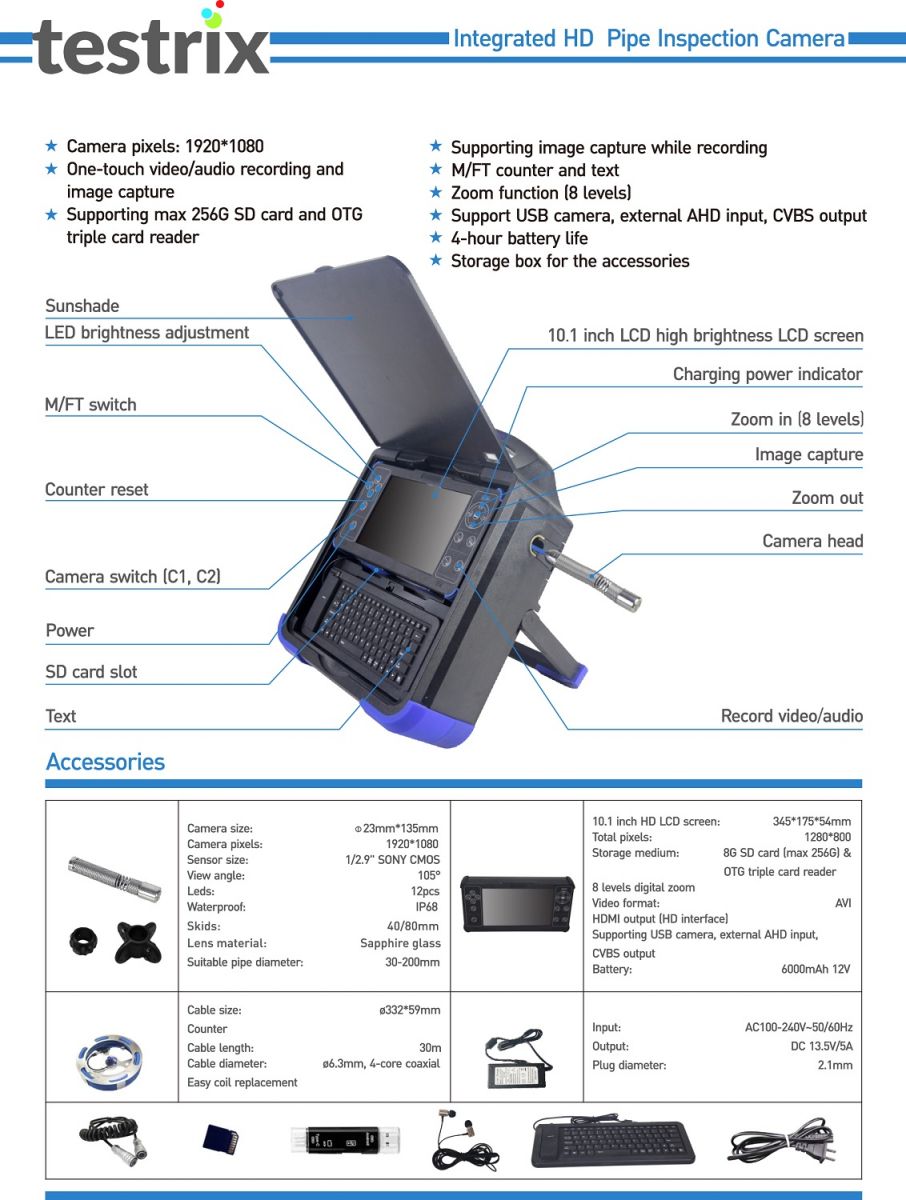 You May
Also Like
More From
This Category